We term our rooms luxurious for the simple reason that they make you feel at home as no amount of grandeur in any starred hotel can provide you the comfort your own home does. Spacious rooms, large airy balconies and windows, comfortable king sized beds, fresh and clean attached washrooms, all greet you in a way that your home welcomes you back. Each of these rooms tell a different story – come explore…
The Sunrise Room
What can be better than waking up to the morning sun rays bouncing off the balcony railings to your window and the birds chirping you a good morning? Couple this with freshly brewed coffee or a piping hot cup of tea you prepared as per your taste in the fully equipped shared kitchen and you will never want to leave. Freshen up in your attached private bathroom and join us for fresh Indian breakfast prepared lovingly by the hostess.
---
The Blue Room
Hate Monday blues? Well you're on your much awaited India vacation-so just curl up in your cozy king size bed for some more time and fight the blues with this cool blue themed room. This room comes with an attached washroom and large windows that help you catch the fresh morning air and the beautiful evening sun. Has 24×7 access to a fully equipped common kitchen along with a lobby on the same floor.
---
Gulmohar Dreams
Nothing's more joyous than a dash of red on a backdrop of grey skies which is exactly what you get in this large family studio with a beautiful gulmohar tree peeking in through arched windows. The room boasts of a lavish terrace sit-out and a fully loaded kitchenette apart from the attached private washroom, LCD TV, AC and electric kettle. You will fall in love with the space – We call the room "Gulmohar Dreams"
---
The Sunset Room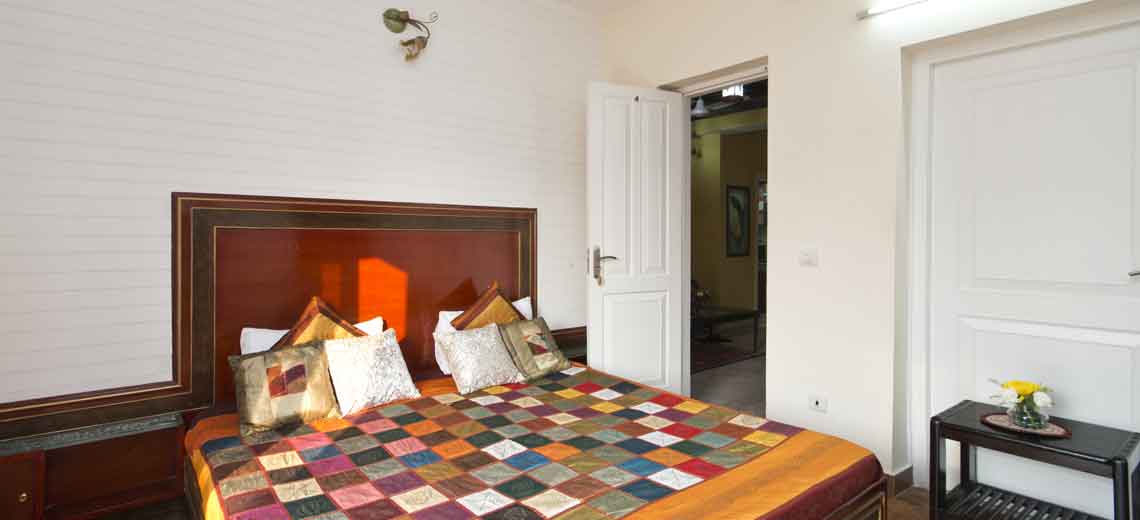 Imagine the coziness of your own room, warmth of a setting sun, reading the final few pages of the novel you've been trying to finish for so long, steam billowing from a hot cup of coffee and the company of a historic city passing by – that's where you want to stay in Delhi. This room with attached washroom is part studio and part penthouse opening to a large attached terrace. Features 24×7 access to a fully equipped common kitchen along with a lobby on the same floor. Feels just like home!